60 minutes to focus on YOU. Feel the freedom to express yourself. 
Nature-based self-guided drawing while listening to and playing the soothing sounds of a steel tongue drum for open minded individuals wanting to relax trying something new. 
All materials provided: recycled A2 sheets of kraft paper, pens, colour pencils.
Atmosphere of openness, non judgement and connection.
No previous art or music experience required.
60 min One to One Art & Sound Self Expression Workshop
Date and time agreed on a individual basis. Please contact me, Natalia on natalia@meehalska.com to arrange a suitable date. 
Morning and evening sessions available. 
Final price
Free shipping to the following countries: Albania, Andorra, Austria, Belarus, Belgium, Bosnia and Herzegovina, Bulgaria, Cyprus, Serbia and Montenegro, Switzerland , Croatia, Czech Republic, Denmark, Estonia, Faroe Islands, Finland, France, Georgia, Germany, Gibraltar, Greece, Hungary, Iceland, Ireland, Italy, Latvia, Liechtenstein, Lithuania, Luxembourg, Macedonia, Malta, Moldova, Monaco, Montenegro, Montserrat, Netherlands, Norway, Poland, Portugal, Romania, Russia, San Marino, Slovakia, Slovenia, Spain, Svalbard and Jan Mayen, Sweden, Turkey, Ukraine, United Kingdom, Vatican City Show more Show less
TESTIMONIALS FROM PREVIOUS PARTICIPANTS
Natalia and I met on Southsea Common on Saturday 2nd June; Natalia greeted me with a smile and an honest desire to give me a session of understanding and relaxation to meet my personal needs. She quickly suggested a spot under the trees to protect my eyes against the light and create an ambiance to make the session a success.
Once ready a brief on the aim of the session and what it would entail followed. It was a two way brief making me feel positive and relaxed.
The Hapi drum was played by her I slowly mediated to great success due to her soothing music and calming body language. Once ready I expressed my feelings via drawing and words onto paper whilst the music accompanied my thoughts to the page.
Once complete my drawings were discussed with great respect and honesty once again making me feel empowered and important and confident as per my intentions.
Finally I was encouraged to use the drum myself. It was a perfect end to the session producing mindfulness in spades and confirming what a talented and subtle mindfulness practitioner Natalia is. The one to one session is a superb form of energy giving and development of character.
Natalia is fully recommended to all those who require an outlet to express themselves without censure and realise their goal of relaxation and wellbeing. Philip
---
I felt very relaxed after the session. I love the drawing aspect of it too, as I have never drawn within that atmosphere before. I recommend it to everyone who wants to express themselves in a non-judgemental setting. Eva 
---
Thank you for the eye opening event. I felt relaxed to the core and like a weight was lifted. The environment was welcoming and peaceful. Thank you again for the experience. Kyle 
---
This was lovely, very relaxing and inspiring for creative energies. Jenna 
---
Natalia is a relaxing host. Her drumming is very lovely and relaxing. I expressed myself through drawing which I found very helpful because I was feeling very stressed before the session. I personally found that the drawing was like a therapy session because my drawings changed along with my emotions and thoughts. Check it out if you have got a chance and relax in a non-judgemental space. Alistair 
DRAWINGS PRODUCED IN PAST WORKSHOPS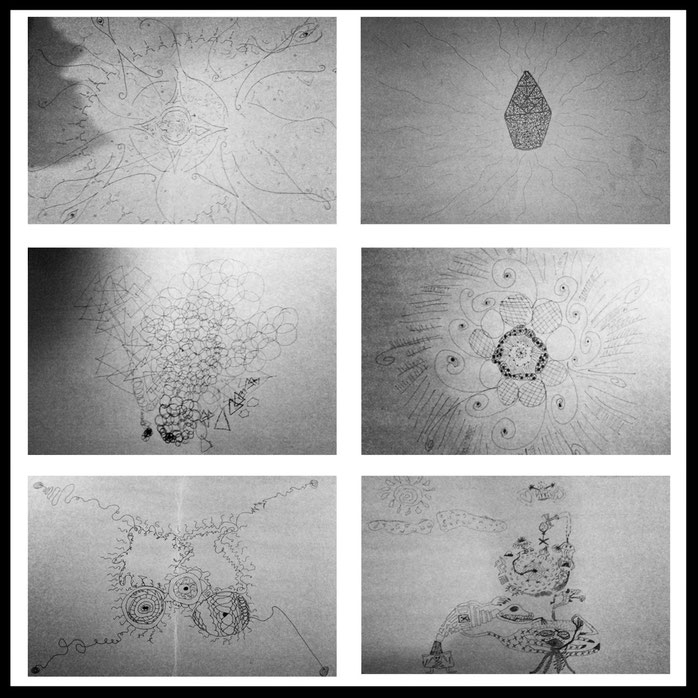 ---
I continuously invest in my self development and am currently completing the following courses:
Mindfulness Practitioner Course (Level I, II, III & Master)
Theory of Sound Healing
Reiki Level I, II and Master/Teacher Program
---
Past sessions
31 May 2018 Chat Over Chai, Portsmouth City Council Community Group, Havelock Centre
14 May 2018 Hampshire Festival of The Mind, The Good Mental Health Cooperative, Portsmouth Cathedral 
6 February 2018, University of Portsmouth Wellbeing Festival 
23 January 2018, Tuesday, 7pm to 8pm, Location: Hunter Gatherer Cafe, 249 Albert Rd, Portsmouth, Southsea PO4 0JR
11 January University of Portsmouth Wellbeing Cafe
5 December 2017, 6pm to 7pm, Location: Hunter Gatherer Cafe, 249 Albert Rd, Portsmouth, Southsea PO4 0JΩ
Can I help you with a question?